Recorded
December 16, 2012
Banned Rehearsal 587
(recording by Keith Eisenbrey) - (October 2000 - Peter Comley, Karen Eisenbrey, Keith Eisenbrey, Aaron Keyt, Isabel Kosály-Meyer, Neal Meyer)
(we have retreated to our den)
dormant dubious sub-wharf flotsam
December 17, 2012
Chaconne
- Keith Eisenbrey -
Sean Osborn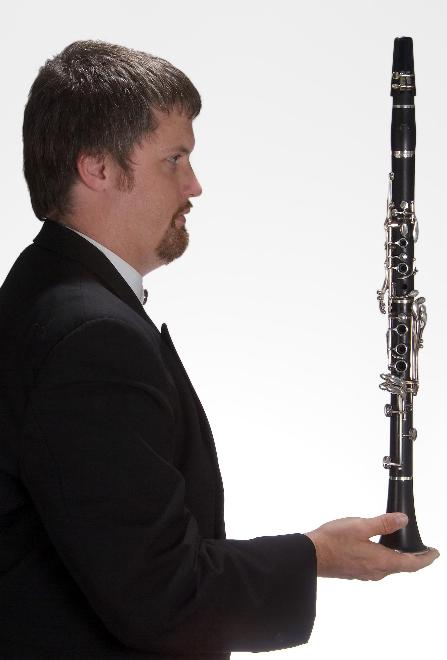 Sean Osborn
On the evening of December 13, 2007, at the Chapel Performance Space in Seattle, Sean Osborn proved beyond doubt that he is superhuman. The uncut version of Chaconne is frankly impossible for one clarinetist to play - by the time the end is reached, 20 minutes in, there would not be enough lip left to remember what a high note is, much less to nail them pianissimo. But even with the cuts Sean and I had settled on, with the risk of disaster being nearly total, he negotiated the score with both a technical brilliance and a musical understanding that had my jaw hanging loose. And at the end, 15 minutes in, he laid those last long high quiet notes out sweet as slumber. This performance was among the three or four most gratifying performance experiences of my compositional life.
My intent was to write a solo clarinet piece that would have a similar heft and gravitas as Bach's solo violin chaconne. It may not be exactly that, but I'm still pretty pleased with it. The particular chaconnity of my
Chaconne
is twisted. I doubt I could untangle it myself anymore. I believe it involved progressively complete iterations of rotational arrays of a six or seven note row within a mod-17 pitch class system. Now if only there were two Sean Osborns to play as a tag team perhaps a performance of the uncut version could be staged!
Banned Rehearsal 778
(August 2010, Karen Eisenbrey, Keith Eisenbrey, Neal Meyer)
gently sleepily driftly revolving
December 18, 2012
Gradus 180
- Neal Meyer (August 2010)
Gradus provides ample time to parse listening practice. There is a temptation to dissect each tone, to slice it into horizontally thin specimens for microscopic examination, the presumption being that in order to hear what is actually there we
must
hear each tone as the concatenation of its partials. Is resistance futile? Or, when careful application of dampers reveal a new sound from within the old, could we hear it not as
parts
of the old now revealed but rather as a new episode of the old, relating the old and new more as we would the respective incoming and outgoing sounds of a dopplered automobile, or perhaps as the trajectory of a diphthong? Or as both at once?
Jauchzet Gott in allen Landen BWV 51
- JS Bach - Gächinger Kantorei, Helmut Rilling
L'Esprit italien
- Sylvius Leopold Weiss - Lutz Kirchhof
Upcoming
Saturday May 4, 2013 at 8:00 PM
Keith Eisenbrey and Neal Meyer at The Chapel Performance Space, Good Shepherd Center, Seattle
Music for solo piano
Eisenbrey:
Welcome to my planet. I come in peace.
Meyer: Cage -
Solo for Piano